Canon EOS 750D Body
Art.: 68710
| | |
| --- | --- |
| Display size | 3 |
| Brand | Canon |
| Megapixels | 24.2 |
| Image sensor | 22,3 x 14,9 mm CMOS |
Product not available!
Total parameters
| | |
| --- | --- |
| Brand | Canon |
| Lens in kit | No |
| Megapixels | 24.2 |
| Image sensor | 22,3 x 14,9 mm CMOS |
| Color | Black |
Display and viewfinder
| | |
| --- | --- |
| Viewfinder | Yes |
| Display size | 3 |
| Touch screen | Yes |
Photo modes and options
Image formats
JPEG
RAW
Self-timer
Yes
Maximum resolution
6000 x 4000
Shutter speed (image/s)
5
Exposure
1/4000 - 30
Exposure compensation
-5 - +5
Sensitivity (ISO)
100-12800
Video modes and options
Audio recording
Yes
Video recording resolution
640 x 480
1280 x 720
1920 x 1080
Video formats
HD
Full HD
Video capture
Yes
Speedlight
| | |
| --- | --- |
| Built-in flash | Yes |
| Ability to add external flash | Yes |
Additional features
Wi-Fi support
Yes
GPS support GPS support:
Cameras that have a built-in GPS can record the location of each of your photos directly in the image. This way you can remember where you took them, and organize them by location automatically
No
Memory and connections
Connection types
Mini HDMI
AV
USB
3.5mm microphone
Memory Card types Memory Card types:
There are several types of memory cards available, you'll need to buy the right ones that work with your camera. Different types offer different capacities for images, and different read/write speeds.
SD
SDHC
SDXC
Built-in memory
No
Charging
| | |
| --- | --- |
| Power supply | Accumulator |
| Battery model | LP-E17 |
Size and weight
| | |
| --- | --- |
| Dimension (mm) | 131,9 x 100,7 x 77,8 |
| Weight (g) | 555 |
Svars
Gross weight (kg) Gross weight (kg):
Параметр вес учитывается при расчёте доставки
5
Warranty
You can pay for goods in bm.market in the following ways:
Credit card



credit card payment online
Legal entities / Self-employed persons (payment only by transfer):
Bank transfer - Payment is made on the previously received to your e-mail account. Upon receipt of the goods attached invoice and original invoice.
We will send your order by courier. The final cost of your order you will find out at registration.
_______________________________________________

Procedure for returning goods and cash:
- You have the right to cancel the contract within fourteen (14) days without giving reasons.
- The right to refuse will end after 14 days from the date when you or a third party purchases the goods, with the exception of the carrier and the person you indicated, received the goods in possession.
- In order to use the right of withdrawal, you must inform us (for example, by mail or e-mail) SIA "TehEksperts", address Krasta iela 89, Riga, LV-1019, phone number +37167296734, +37127725222, email address info@bm.lv using the sample.
- In order for the term of the right to refuse to be respected, it is enough if you send your notice of the use of the right to cancel before the end of the term of the right to cancel.
- If you withdraw from the contract, we will refund all payments received from you, in turn transport costs (excluding additional costs that arose as a result of choosing a delivery method), without undue delay and in any case no later than 14 days from the date when we were informed about your decision to withdraw from the contract.
- During the use of the right of withdrawal, you can use the product for as long as necessary to check the product (just as you can do before purchasing the product in a regular store, for example, for laptop computers, familiarize yourself with the appearance of the computer, size, but not manipulations, including activation of a pre-installed operating system, mobile phones - without removing protective films, including without inserting a SIM card and making calls, without synchronizing data, etc.).
- You are responsible for maintaining the quality and safety of the goods during the period of implementation of the right to refuse.
- You must reimburse the costs associated with reducing the cost of the goods, if the goods were used for other purposes, not to familiarize themselves with the features and operation of the goods, which can be confirmed by the diagnosis of the goods in the manufacturer's authorized service center.
Specifications
Total parameters
| | |
| --- | --- |
| Brand | Canon |
| Lens in kit | No |
| Megapixels | 24.2 |
| Image sensor | 22,3 x 14,9 mm CMOS |
| Color | Black |
Display and viewfinder
| | |
| --- | --- |
| Viewfinder | Yes |
| Display size | 3 |
| Touch screen | Yes |
Photo modes and options
Image formats
JPEG
RAW
Self-timer
Yes
Maximum resolution
6000 x 4000
Shutter speed (image/s)
5
Exposure
1/4000 - 30
Exposure compensation
-5 - +5
Sensitivity (ISO)
100-12800
Video modes and options
Audio recording
Yes
Video recording resolution
640 x 480
1280 x 720
1920 x 1080
Video formats
HD
Full HD
Video capture
Yes
Speedlight
| | |
| --- | --- |
| Built-in flash | Yes |
| Ability to add external flash | Yes |
Additional features
Wi-Fi support
Yes
GPS support GPS support:
Cameras that have a built-in GPS can record the location of each of your photos directly in the image. This way you can remember where you took them, and organize them by location automatically
No
Memory and connections
Connection types
Mini HDMI
AV
USB
3.5mm microphone
Memory Card types Memory Card types:
There are several types of memory cards available, you'll need to buy the right ones that work with your camera. Different types offer different capacities for images, and different read/write speeds.
SD
SDHC
SDXC
Built-in memory
No
Charging
| | |
| --- | --- |
| Power supply | Accumulator |
| Battery model | LP-E17 |
Size and weight
| | |
| --- | --- |
| Dimension (mm) | 131,9 x 100,7 x 77,8 |
| Weight (g) | 555 |
Svars
Gross weight (kg) Gross weight (kg):
Параметр вес учитывается при расчёте доставки
5
Warranty
Related products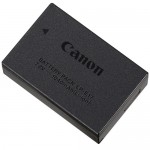 Brand: Canon
Suitable for models: EOS 750D, EOS 760D, EOS M3
Capacity (mAh): 1040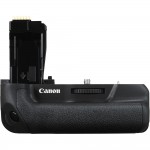 Brand: Canon
Suitable for models: EOS 750D & 760D
Capacity (mAh): 0
SanDisk Ultra SDHC 16GB Class 10 UHS-I (SDSDUNC-016G-GN6IN)
€ 8